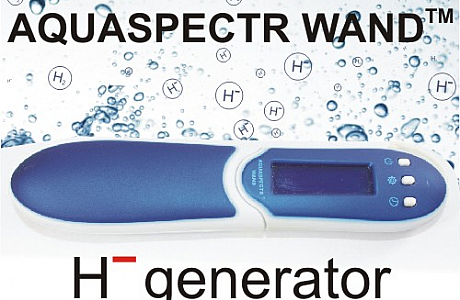 Przenośny generator ujemnych jonów wodoru
Opis
AQUASPECTR WAND to:
Aktywator wody, napoi, musów, jogurtów i innych cieczy zawierających wodę.
Zwiększa potencjał antyoksydacyjny.
Program umożliwiający produkcje podchlorynu sodu NaClO potężnego leczniczego środka antyseptycznego, przeciw bakteryjnego antywirusowego i przeciw grzybiczego.
Miniaturowy - możesz zawsze mieć go przy sobie.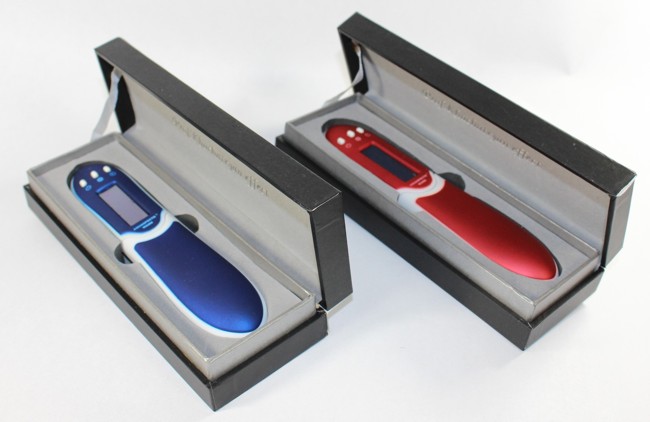 Uwaga! Absolutna nowość! Jedyne takie urządzenie na całym świecie!!!
« AQUASPECTR WAND » jest jedynym na świecie jonizatorem, który może być wykorzystany nie tylko do aktywacji wody, ale też zawierających wodę cieczy takich jak np..:
sok,
kawa,
herbata,
mleko i
inne ciecze),
które uzyskują antyoksydacyjne właściwości i pomagają w przywróceniu i podtrzymaniu fizjologicznych funkcji organizmu.
Co to jest urządzenie aktywator « AQUASPECTR WAND» i jak ono pracuje?
Aktywator « AQUASPECTR WAND » jest przyrządem gospodarstwa domowego do otrzymywania biologicznie aktywnych cieczy. W wyniku delikatnego oddziaływania, zmienia on strukturę wody i cieczy zawierających wodę (np. sok, mleko, herbata, kawa i inne), bez zmiany ich składu chemicznego, czyniąc je maksymalnie pożytecznymi i łatwo przyswajalnymi przez organizm. Przy zmianie struktury w wodzie i cieczy zawierających wodę tworzy się duża ilość swobodnych elektronów (jonów ujemnych wodoru).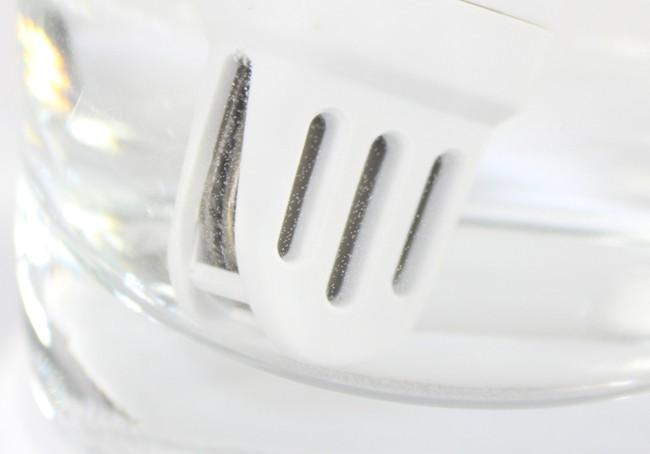 To dodaje wodzie redukcyjne właściwości, wzmacnia antyoksydacyjną aktywność wody i zawierających wodę cieczy, przez co nabierają właściwości leczniczych.
Woda wypełnia się pierwotną siłą i energią i robi się biologicznie aktywna. Według właściwości jest ona podobna do wody górskiej ze stajałego śniegu albo do wody ze źródeł leczniczych.
Czym « AQUASPECTR WAND » odróżnia się od podobnych urządzeń?
Koniecznie należy zaznaczyć, że urządzenie « AQUASPECTR WAND» jest unikalne w swoim rodzaju i nie ma odpowiedników na świecie.
Posiada międzynarodowe patenty.
Inne znajdujące się na rynkach światowych jonizatory wody:
przeprowadzają elektrochemiczną aktywację tylko wody;
oprócz struktury (ORP/Redox) zmieniają także skład chemiczny (pH) wody;
są masywne i wymagają stacjonarnego podłączenia wody.
« AQUASPECTR WAND »
przeprowadza elektroaktywację nie tylko wody, ale także cieczy zawierających wodę (np. soki, herbata, kawa, mleko, rosoły, napoje alkoholowe, środki kosmetyczne i inne);
zmienia tylko strukturę (ORP/Redox) cieczy, bez zmiany jej składu chemicznego (pH). Jest to szczególnie ważne dla różnych cieczy zawierających wodę, dlatego że gdybyśmy zmienili pH np. soku pomarańczowego to to już chemicznie nie będzie sok pomarańczowy!!!

to miniaturowy, przenośny przyrząd, który może być wykorzystany w każdych warunkach.
Co jeszcze można aktywować elektro-aktywatorem « AQUASPECTR WAND »?
Wodę zdatną do picia, naturalne i sztucznie otrzymywane zawierające wodę produkty o różnej konsystencji w charakterze gorących albo zimnych napojów (jak: herbata, kawa, mleko), jogurty, białkowe napoje i koktajle, soki (musy) owocowe i warzywne (naturalne, świeżo wyciśnięte, otrzymywane z koncentratów, z witaminowymi i innymi dodatkami), witaminizowane napoje, niegazowane i gazowane napoje bezalkoholowe, napoje i koktajle dla dzieci, wszystkie napoje alkoholowe (wódka, piwo, koniak, koktajle, wina, whisky i inne), zupy, sosy, wywary warzywne, rosoły, a także środki kosmetyczne (kremy, toniki, kosmetyczne mleczka i inne), środki higieniczne (żele, szampony, mydła w płynie, maści, pasty), środki ziołowe (płynne ekstrakty naparów roślin, korzeni, ziół i inne).
« AQUASPECTR WAND » posiada funkcje przygotowania podchlorynu sodu NaClO.
W niektórych krajach jest on zarejestrowany jako środek leczniczy, dla zewnętrznego i wewnętrznego stosowania oraz w terapii infuzyjnej.
Bardzo ważną właściwością podchlorynu sodu (NaClO) jest jego potężne antyseptyczne, bakteriobójcze, antywirusowe i antygrzybicze działanie.
Taka właściwość spowodowana jest uwolnieniem atomowego tlenu, którym NaClO utlenia komórki bakterii. NaClO normalnie tworzy się w naszym organizmie w specjalnych komórkach - makrofagach, które bronią nasz organizm od patogennych bakterii i infekcji. Dlatego jest on całkowicie nieszkodliwy dla człowieka.
Jaki jest mechanizm działania elektro-aktywatora « AQUASPECTR WAND »?
Jony ujemne wodoru, które tworzą się w wodzie i w zawierających wodę cieczach - w rezultacie aktywacji - neutralizują wolne rodniki w organizmie człowieka oddając im wolne elektrony.
Wnikając do komórek ładują ich membrany przywracając prawidłowy potencjał i tym samym, normalizują czynności komórek. Stając się przewodnikiem dla innych przeciwutleniaczy i mikroelementów dostarczają je do miejsca przeznaczenia.
Co to są « jony ujemne wodoru »?
Jony ujemne wodoru (H-) to - prymitywny, pierwotny i podstawowy przeciwutleniacz, który poprzedzał istnienie życia na Ziemi.
Ujawniony jest on we wszystkich świeżych, mokrych, nieobrobionych produktach pochodzenia roślinnego i zwierzęcego, uprawianych bez użycia środków chemicznych, w wielu wysokogórskich jeziorach, w studniach i źródłach i niektórych studniach głębinowych, gdzie warstwa wodonośna utrzymywała się stabilnie przez tysiące lat.
Jest on najbardziej rozpowszechniony, najlżejszy i najmniejszy ze wszystkich znanych przeciwutleniaczy i nośników energii, co daje mu możliwość bycia obecnym praktycznie w dowolnych biologicznych systemach, a także w naszych organach (wątroba, jelita, nerki, serce, płuca, śledziona, mięśnie).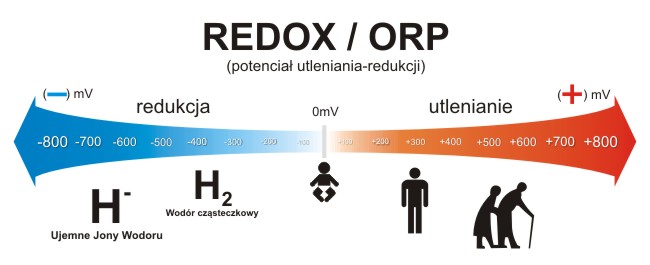 Bez wodoru - nie ma życia.
Bez niego nie odbywa się ani jedna biochemiczna reakcja w żywym organizmie; to efektywny antyoksydant, który jest zdolny neutralizować najbardziej rozpowszechnione wolne rodniki. Właśnie on zapewnia negatywny potencjał płynnego środowiska we wszystkich żywych systemach, w tym także u człowieka. Nasi przodkowie otrzymywali znaczną ilość tych jonów razem z pożywieniem i z wodą, podczas gdy teraz my cywilizowane narody, często otrzymujemy ich bardzo mało albo wcale w naszej diecie, ponieważ jest bardzo nietrwały i łatwo ginie przy różnych formach obróbki pożywienia (gotowanie, ultrafiolet, pole magnetyczne i inne), a w warzywach i owocach po 10-15 dniach od ich zebrania. Niewystarczające zaopatrzenie organizmu w jony ujemne wodoru, prowadzi do przekroczenia utleniających procesów w organizmie nad redukcyjnymi, do hamowania procesów wewnątrzkomórkowych, osłabienia międzykomórkowych współdziałań, akumulacji toksycznych substancji i wolnych rodników, a w ostatecznym rozrachunku, do naruszenia zdrowia i powstania różnych chorób, w tym onkologicznych.
AQUASPECTR WAND – jest generatorem jonów ujemnych wodoru. To rewolucyjne przełomowe urządzenie, pozwalające na profilaktykę i ochronę zdrowia naszej cywilizacji.
Można powiedzieć że AQUASPECTR jak za dotknięciem "magicznej" różdżki ożywia wszystkie aktywowane produkty np.: wodę, soki, napije, mleko, koktajle mleczne, jogurty, kefiry, maślanki, musy, przeciery, zupy, piwo, wino, wódkę, koniak, środki kosmetyczne jak mleczko, tonik i wszystkie inne produkty zawierające wodę.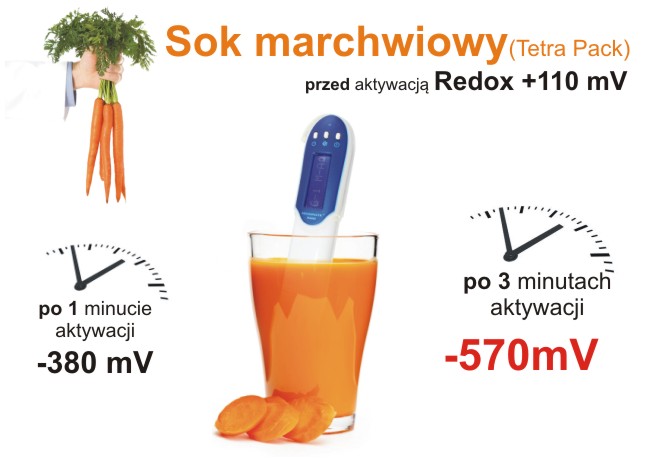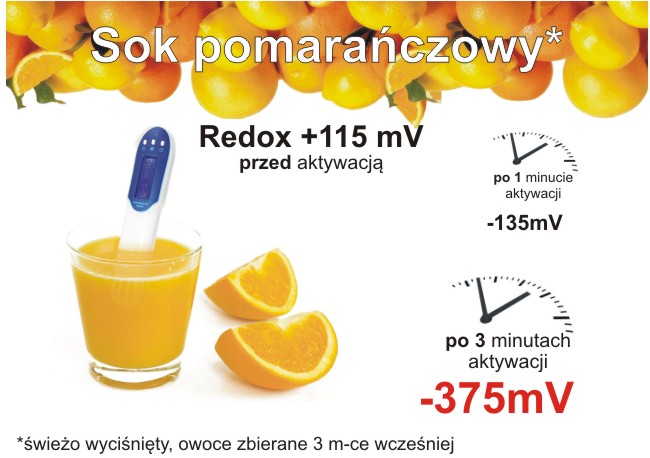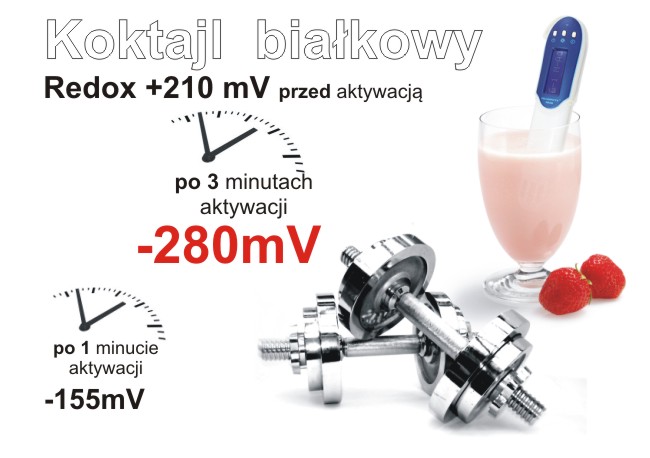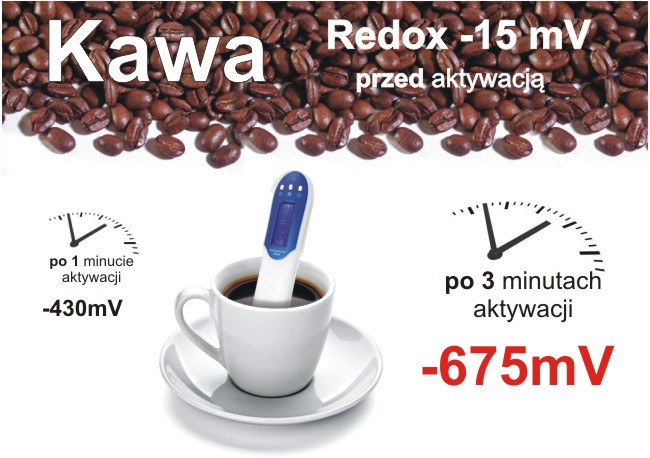 Jakie procesy odbywają się na elektrodach przy aktywacji?
Na katodzie: maleje ilość kationów (jonów metali), to znaczy następuje dodatkowa elektrochemiczna filtracja cieczy; tworzą się jony ujemne wodoru H-, które wywierają dobroczynny wpływ na komórkę przywracając jej negatywny (ujemny) potencjał. Na anodzie odbywa się utlenienie substancji organicznych, rozkład szkodliwych substancji organicznych (barwniki, aromaty, stabilizatory, konserwanty - benzoesan sodu i inne).
Jak długo aktywowane ciecze zachowują swoje właściwości?
Zaraz po przerywaniu aktywacji zaczyna się proces odwrotny - dezaktywacja, który trwa w około 2-3 godzin. Po czym aktywowana ciecz przechodzi w swój początkowy nie aktywny stan. Dlatego wodę i ciecze należy przyjmować zaraz po aktywacji.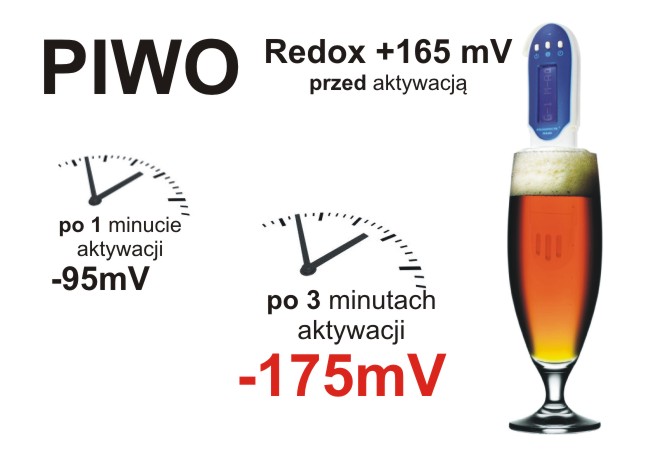 W jakiej ilości można pić aktywowane za pomocą « AQUASPECTR WAND » wodę i ciecze?
Aktywowaną wodę można i należy pić zamiast zwykłej wody w nieograniczonej ilości, zgodnie z zapotrzebowaniem organizmu. Różne aktywowane ciecze, w szczególności herbata, kawa, które pije się najczęściej w ciągu dnia oprócz wody, należy kontrolować. Intensyfikacja w nich antyoksydacyjnej aktywności i ich nadmierne użycie może wywołać stres antyoksydacyjny.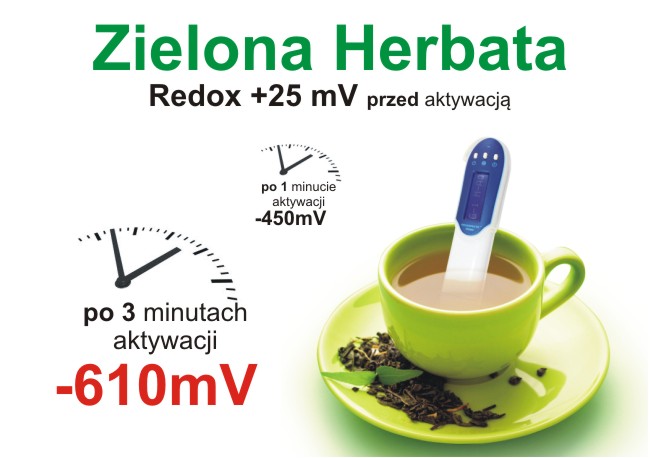 W ten sposób pokazano:
1. Współzależność ORP/Redox i antyoksydacyjnej aktywności różnych cieczy zawierających wodę;
2. Im niższy (ujemy) ORP/Redox, tym wyższa antyoksydacyjna aktywność;
3. « AQUASPECTR WAND » wzmacnia antyoksydacyjną aktywność cieczy.
Dane techniczne
Parametry techniczne
| | |
| --- | --- |
| Prąd roboczy | 30-50 mA |
| Pobór energii | nie więcej niż 1,8 - 5 W |
| Waga urządzenia | 75 g |
| Gabaryty | 37 x 165 x 22 mm |
| Tryb pracy | półautomatyczny |
| Elektrody | Elektrody japońskie Hi-Tech tytanowe pokryte platyną |
| Elektronika | produkcji tajwańskiej |
| Czas ciągłej aktywacji przy pełnym naładowanym akumulatora | nie mniej niż 60 minut |
W Skład zestawu wchodzi

:

- elegancko zapakowany generator AQUASPECTR WAND

- ładowarka

- smycz

- instrukcja w języku polskim